Paris Hilton Wins $30,000 at Blackjack Tables
21.02.2012
Sometimes in life we hear heartwarming stories of regular people finding their fortune at the casino by winning some much needed money. However, sometimes we hear stories about rich people becoming even richer while playing at the casino. This is the nature of gambling, it does not discriminate against the rich or the poor and anyone can become a lucky winner.
This is exactly what happened on the weekend to one of the most famous women in the world. We are talking about the heiress, television personality and overall glamour girl Paris Hilton.
Hilton was in Las Vegas this past weekend celebrating her 31st birthday with must style at the exclusive five star hotel and casino resort Wynn Las Vegas. Hilton threw a big birthday party at XS Nightclub in Las Vegas and partied the night away with her close friends.
Later on during her birthday Hilton decided to give the blackjack tables at Wynn Casino a try and ended up winning $30,000 during a single play session. Hilton, who is very active in various online social networks, was quick to tweet on Twitter "Just won 30K playing blackjack @WynnLasVegas". Later that night Hilton also tweeted "#BirthdayGirlsLuck! I love gambling!".
Clearly Hilton had a blast partying with her friends and playing blackjack. The next day she tweeted "Last night was the best birthday party I have ever had in my entire life! The most beautiful amazing extravagant birthday party ever! #YES!"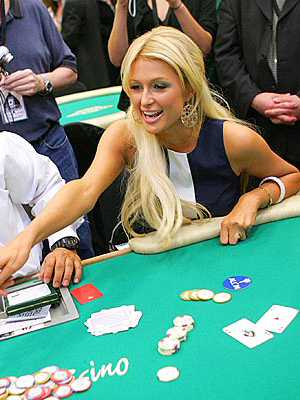 Image Source: Parishilton.com